AFTER ALL HAS BEEN SAID ABOUT AN ALBUM, WHAT REMAINS ARE LINER NOTES – POSTERITY NEEDS THEM
(Internet Fan's letter to a record label)


Liner notes indeed reveal a lot about the artist's mind in the creation of an album.
Here are several "Notes" that have received great critical comments from the musical world, the most recent ones done for LOST IN JUNE (Andrea Centazzo) and TURBULENT FLOW (Gianni Mimmo with Daniel Levin) .
The first two, written at Steve Lacy's personal request for his two albums THE RENT and SNIPS, remain particularly precious now that he has left us.

As the number of hours of music caught on Steve's private audio and video tapes is immense, more CDS -- and liner notes -- are likely to be issued in the near future by Senators Records or other daring independent label.

Liner notes of Gilles' own upcoming CDs SHORT CUTS (ASP 142) and WINGS OF LIGHT (ASP 412), (see CD Releases), will be presented on this page.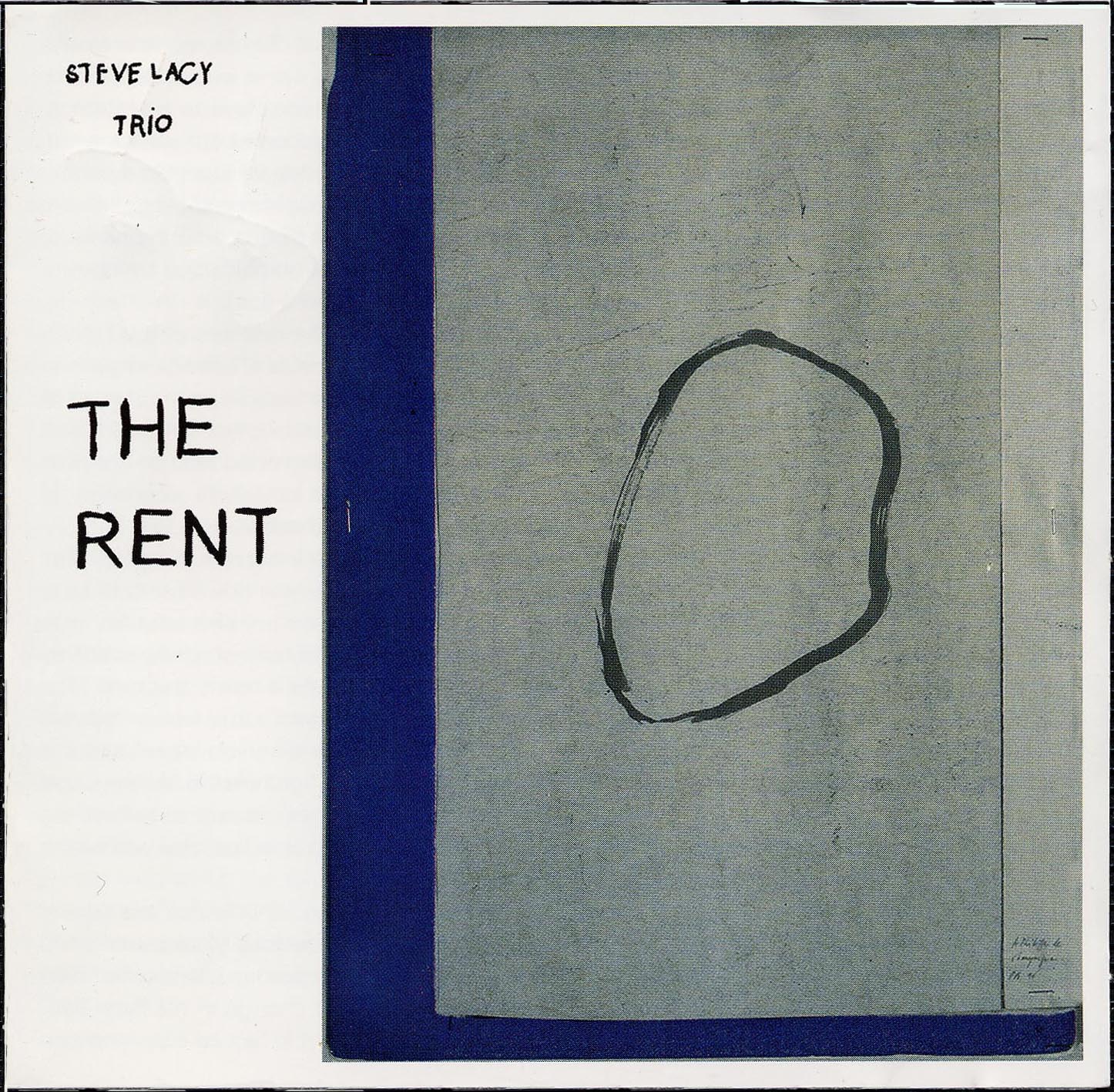 THE RENT
In a 1992 interview for Cadence, Steve Lacy explained: "To me, music is always about something or somebody, or from somebody or something. It's never in the blue, never abstract. You have to dig into the music to see what's happening, you have to question it. Sometimes I don't know what it's about or who it is about until the music comes out; after a while, I question it, and I see - "Ahh, that's who that is!" [1] And so, all his compositions are just that: a portrait of / an homage to "somebody" or a reference to "something." Lacy's thoughts on this process are evident on his sheet music: at the end of each tune, he attaches a small picture with the name of the person to whom he offers the tribute. The finished sheet is in itself a work of art, combining graphics and collages.

This album with its title piece, THE RENT, is humbly dedicated to the memory of the French jazz critic Laurent Goddet, whose untimely death by suicide in the late 80's affected everyone in French music circles. He was one of the first people to generously help Lacy when he moved to Paris in 1970. After several years of disentchantment in Rome with enthusiastic but amateur Italian musicians, the music scene in Paris had seemed to Lacy a bit like the promised land. However, finding enough gigs was tough, and Lacy and his wife Irene Aebi were soon "in the dumps" [2], scraping and scratching to survive. Goddet helped them out selflessly.

To all who knew Goddet, his suicide was a total surprise. To those who loved him, his death was like a brutal rip in a delicate and cherished piece of fabric. The tragedy was devastating to Lacy who was left with "une profonde déchirure au coeur," i.e. a rent in his heart. It also left Lacy with a deep indebtness to Goddet for the altruistic help he had received from him, which he suddenly realized he could possibly no longer return, except through his music. As a result, the tune THE RENT carries the scars of the violent rip of emotions, the indebtness owed a true friend ("the rent is a phenomenon that we're all forced to deal with - we have to pay the rent, you know") [1] and it is also a play on his name, "The Rent" - Laurent. [1] The piece is both bright (a lighhearted "A" part, sort of a Cha Cha Cha) and dark (a grinding "B" part, screaming the blues), as if to reflect the dichotomy between the apparent insouciance of Goddet's life and the scorching pain he was hiding in his soul.

The other tunes in this album are also tributes in their own special way: SHUFFLE BOIL, the current "standard" opening number to the trio's concerts, obviously expressing Thelonious Monk's everlasting mark on Lacy's Muse; THE BATH, to Dexter Gordon, a dark blues "inspired from a film called "Max" (Einer Moos), where Henri Miller allows his favorite bum to bathe and change in his Paris flat" [2]; PRAYER, to Charlie Rouse, a kind of "soul" music with an angular melody, but in fact an Irish-American spiritual with Zen/Buddhist overtones; BLINKS, to trombonist Kid Ory, its principal lick taken from an old Dixieland phrase of the 20's; THE DOOR, to Joseph Haydn, who liked to employ knocking rhythms in some of his work; RETREAT, "a little Rhapsody for Bob Marley, based on a mode from the Far East in tick-tock time" [2] inspired by a quote from 18th Century painter Thomas Gainsborough; GOSPEL, "a shout and a blues, a stomp and a wail" [2], to Stevie Wonder ; FLAKES, to American painter Mark Rothko; BONE, the oldest composition in the set (1969), to Lester Young, from the song cycle "The Way / Tao Suite", based on a Lao-Tzu poem; and BOOKIONI, the current encore to the trio's performances, inspired by Lacy's former drummer, Oliver Johnson.

They represent only a fraction of the group's vast repertoire - several pieces from Monk, all others from Lacy's own musical universe. They have been explored extensively since 1995, when the famous twenty year-old Steve Lacy Sextet was stripped down to the current Trio, and were explored further during the rather ambitious North American Tour of November 1997, when this recording was made: 25 cities in 30 days, flying back and forth from the West Coast to the East Coast, from North to South, a truly grueling schedule. This was one of the last concerts before flying "home" to Paris. Yet the musicians, and the music, show no sign of fatigue. Quite the contrary, it is as if the presence of Laurent Goddet was felt and had energized everyone present.

The album is blessed with the wonderful acoustics of the picturesque "Old Church" in Portland. It is also blessed with a very crisp engineering which brings out beautifully the natural sounds of Lacy's sharp and varied timbral inflections, Avenel's warm virtuoso solos and embroideries, and Betsch's subtle/attentive dosage of colorful drumming. It is further blessed with a very responsive and enthusiastic audience. Another special blessing is the release of the two sets in their unexpurgated form, as they happened, giving the CD listener the magical illusion of "being there," a great compensation to all who could not be in Portland that night. The two sets demonstrate the unerring sense of balance in Lacy's choice of tunes, deceptively simple elegant melodies, in which his improvisations remain fresh, always, even after 45 years of soprano playing.

One often says that time fosters deep alliances between minds, and this album effectively shows the ease with which the three musicians relate. There is an empathic equilibrium which makes their "communion" in the Old Church seem effortless and complete, all three musicians flying high and landing impeccably on their feet. No doubt that, had he been alive and present that night, Laurent Goddet himself would have been delighted, and would have simply said : "What great music! Listen!"

© Gilles Laheurte (February 1999)
1/ from The Steve Lacy Interview, Cadence Magazine, December 1992
2/ quotes from Steve Lacy

**********
THE MUSIC:
Steve Lacy soprano saxophone, voice
Jean-Jacques Avenel bass
John Betsch drums

CD #1 - 1st Set
1-1/ Shuffle Boil (Thelonious Monk) 7:22
1-2/ The Bath (Steve Lacy) 8:25
1-3/ The Rent (SL) 10:23
1-4/ Prayer (SL) 10:05
1-4/ Blinks (SL) 9:37
CD #2 - 2nd Set
2-1/ The Door (Steve Lacy) 10:56
2-2/ Retreat (SL) 10:02
2-3/ Gospel (SL) 7:15
2-4/ Flakes (SL) 8:05
2-5/ Bone (SL) 11:19
2-6/ Bookioni [encore] (SL) 3:22

Recorded live on 30 November 1997, at The Old Church, Portland, Oregon (USA).

Cover painting: Pierre Buraglio ("À Philippe de Champagne" - 1996).
Photos: Gilles Laheurte

1999 - Cavity Search (USA), CSR 44 (2 CD)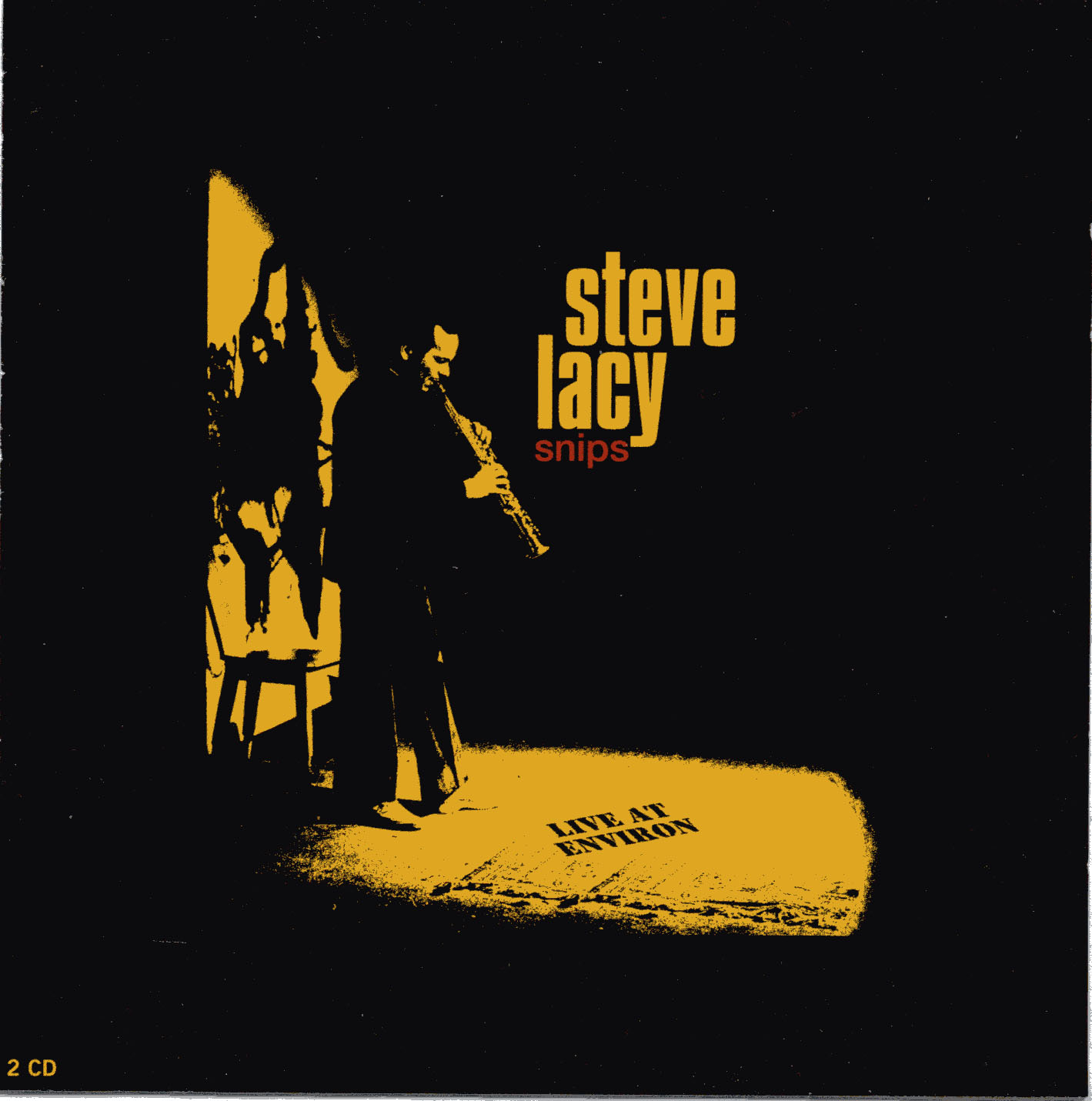 SNIPS
This is an unusual recording of historical significance. It is Steve Lacy's first solo concert ever in America. It is also a unique document of a single performance – one night only – so typically representative of the New York City music scene of the mid-1970s. As such, it must be looked at from two different points of view: as an example of the solo format, and as an example of the New York "Loft scene."

While it is recognized that the solo saxophone format was pioneered by Anthony Braxton (For Alto, 1968), the art of solo reed improvisation truly belongs to Steve Lacy who, still today, openly acknowledges his indebtedness to Braxton's solo performance at "L'épée de Bois." This recording is thus one small piece of Lacy's large puzzle of his "early" solo research process (alas, there are many missing pieces), fortunately documented on several albums: the experimental multi-track studio recording of Lapis (1971), the daring public recording Au Théâtre du Chêne Noir in Avignon (1972), the intimate and very rare Torments and Solo at Mandara (Japan, June 1975), and the uneven Axieme 1 and 2 session (September 1975), which is probably the closest available previous solo public performance given by Lacy before this one, presented to a small New York audience in early 1976. Actually, pretty much like the essential School Days album (1963), it is a miracle that the concert was recorded at all, as such event could have easily taken place unnoticed and gone immediately into total oblivion… In this perspective, the fact that this recording exists largely compensates for its minor technical "difficulties."

The recording must also be considered in its peculiar musical / cultural context of the time. Indeed, some of the most important music of the 1970s in New York City took place not in concert halls or the traditional commercially–oriented clubs, but emerged in "loft performing spaces," run in a sort of cooperative endeavor by the musicians themselves. Quite often, the lofts were nothing but the artists' own homes. As early as the late 1960s, the many "lofts" soon became centers of a uniquely creative music, which could never have interested the major labels with commercial intentions. Among those, Ali's Alley (Rashied Ali's place), Studio Rivbea (Sam Rivers' place), and Environ, located at 476 Broadway, owned by Painter John Fischer (with its great abstract painting serving as a backdrop), certainly remain the most important ones.

The relaxed loft ambience -- the audience could sit on couches / chairs or simply on the floor -- provided not only a feeling of freedom and independence, but also the opportunity to forget inhibiting pressure of the music business (everything was totally informal). In addition, the absence of any deeply rooted commercial greed attracted many music lovers interested in experimentation and new sounds. This was truly the opportunity to let the musicians express their own respective individual voices. As a result, the shared enthusiasm for some genuinely fresh musical ideas made the New York "Loft scene" quite an exciting period.

On March 16, 1976, Steve Lacy brought back from several years of "exile" some truly unique sounds to New York, and a special spark to Broadway… But let the unexpurgated music speak for itself.

© Gilles Laheurte, March 2000

**********
THE MUSIC:
Steve Lacy, soprano saxophone
(All compositions by Steve Lacy)

CD#1
1/ Hooky 8:40
2/ The New York Duck 5:45
The 4 Edges:
3/ Outline 5:30
4/ Underline 6:09
5/ Coastline 6:54
6/ Deadline 7:07
7/ Snips 5:51

CD#2
1/ Pearl Street 5:49
Tao Suite:
2/ Existence 6:01
3/ The Way 4:27
4/ Bone 4:35
5/ Name 5:59
6/ The Breath 5:41
7/ Life on its Way 3:32
8/ Revolutionary Suicide 5:00

Recorded live at Environ, New York, March 16, 1976 by Jim Eigo.

Cover photo: Ray Ross.
Expert assistance & liner notes: Gilles Laheurte.

2000 - Jazz Magnet Records, JAM-2001 (2 CD)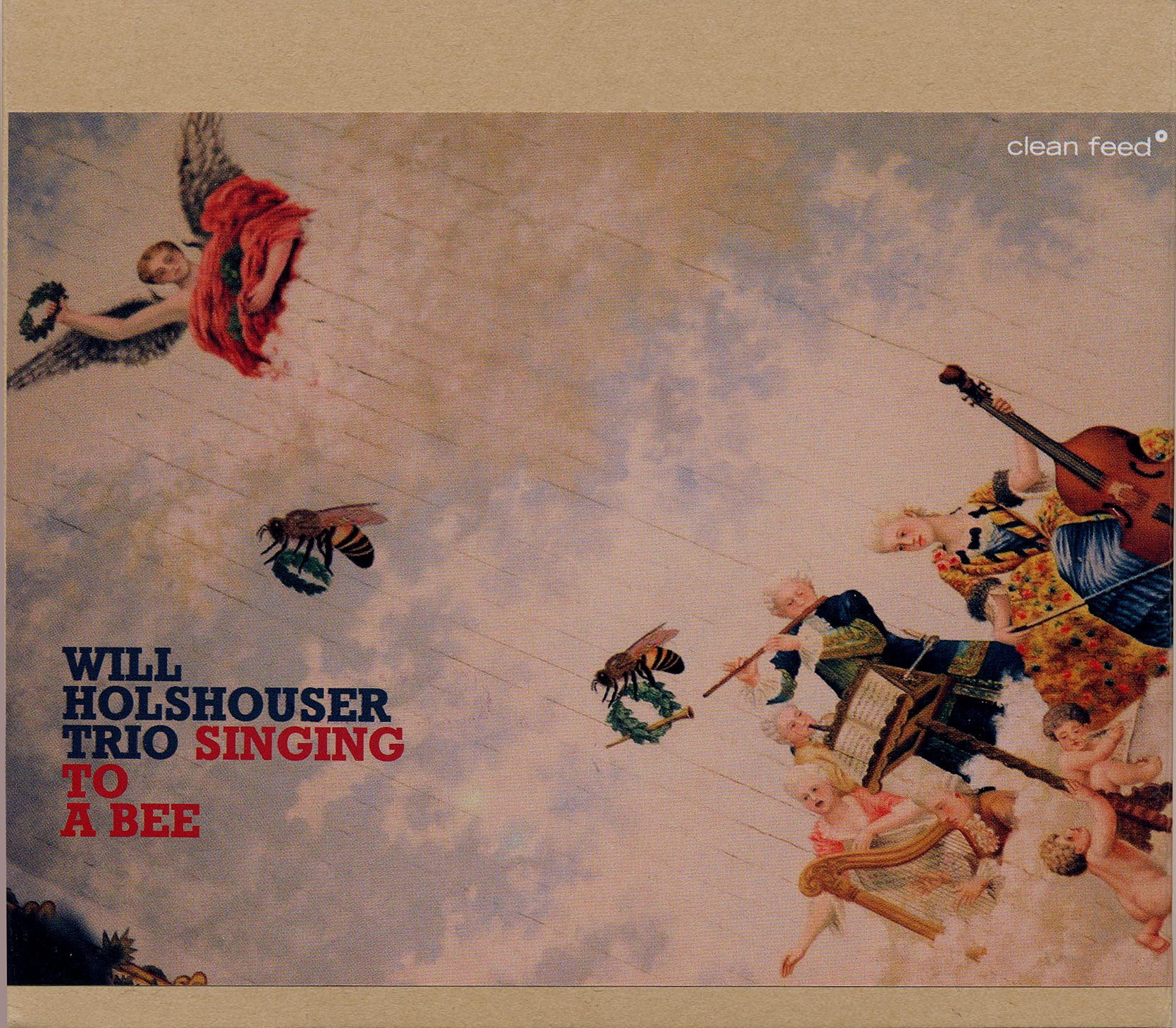 SINGING TO A BEE
Through imagery drawn from keen personal observation, the five simple syllables that give this CD its title could well be the first part of a traditional 5-7-5 haiku. The bee, the song and the poet are all one idea composed of many, one idea that the mind of a receptive listener will surely be drawn into and reflect upon. It could also be a subconscious homage to Will Holshouser's father, Bill, a highly sensitive soul who saw and felt everything around him in his own rich personal way —in particular with nature—bringing out an enchanting mix of humor and profound emotions in his poems (check his book Naked Bread, Every Other Thursday Press, 2001).

Just like in haiku and in his father's delightful poetry, Holshouser's observations bring a startling insight into the ordinary. His compositions—to cite just two of them: Tang (from his first CD Reed Song - Clean Feed 005), inspired by the orange sugary beverage he used to drink in his childhood; and Brooklyn Research (from this CD), inspired by the outside noise coming through the windows of his Sunset Park apartment—demonstrate the strong influence apparently mundane "things" in our immediate surroundings can have on our ways of looking and reflecting about life. And so, the transformation from "things" to thoughts to words to music comes out from within as intimate, lyrical and witty (almost kind of sarcastic at times) in the trio's clever explorations of the tunes' fundamental musical elements.

In Holshouser's music, like in haiku's imagery, the more deeply the listener enters into the authentic experience of a song, the more the song reveals. It subtly reveals "something" profound about the self. Something we had not realized was there. Something that we cannot really identify, yet feels inexplicably familiar. Something that comes out of the sudden intimacy that takes place between the music and the listener, and out of the more deeply rooted intimacy of the trio's members in the ensemble sound they produce.

Yes, there is much poetry in Will Holshouser's music, fused in the clear mix of old world "feel" anchored in pure tradition (La Esperanza), Gypsy / Louisiana Cajun folk music (Fish Head Stomp) and jazz. Like a chef making an ingenious dish with basic common ingredients, he dazzlingly blends all of these colorful musical styles in his profoundly personal "unconventional" compositions.

There is however more than poetry in his music. There is much tenderness and lyricism, both utterly original. Indeed, originality is one of his main qualities. There are many accordion players out there in the so-called world of "creative music," all great creators in their own ways. But, to me, Holshouser's sound and ideas are unique, very different from Piazzolla, Galliano and Klucevsek, among the most important ones. As we know, all great musicians can be instantly recognized by the uniqueness of their sound: think of the blurry wetness of Miles Davis' trumpet, the high jumps of Eric Dolphy's bass clarinet, the incandescent light of Steve Lacy's soprano saxophone, among a few that immediately come to mind. To many fans, Holshouser's sound on the accordion is like no one else's: a few notes, and we know it's him—no small accomplishment playing a reed instrument that does not use the musician's own breath, but bellows and buttons. It's all in his phrasing, in the dreamy, nostalgic, almost romantic "hidden dimension" of his inner feelings and in his imaginative licks, at times facetious but always full of poetic passion.

Originality goes beyond the astute blend of styles—of jazz, traditional folk music and chamber music— and compositions that comprise the trio's repertoire: it lies also in the very unusual format of the trio itself. Who could possibly have thought of bringing together such a potentially dissonant blend of accordion, bass and trumpet? Yet, this daringly unusual harmonic mix provides ample room for each musician to explore and expand the tunes' melodic secrets on their own: Ron Horton is ever so razor sharp, delicate and controlled, yet a constant burning flame, never overwhelming but always passionately glowing; Dave Phillips is ever consistent in his judicious attentive melodic support, intensely lyrical and picturesque in his brilliantly conceived solos, covering a remarkably broad sonic technical palette. What comes out of their intrepid complicity is the happy oneness of three souls, revealed through its distinctive sound, so captivating to discerning ears.

Let yourself be immersed in the enchanting tale of this music performance, recorded live one recent evening in Portugal. If you listen well, you will hear what the bee hears in Holshouser's songs.

© Gilles Laheurte, February 19, 2006

**********
THE MUSIC:
Will Holshouser, accordion
Ron Horton, trumpet
Dave Phillips, bass

1/ The North Star
2/ Far Away Home
3/ Brooklyn Research
4/ Singing to a Bee
5/ Fish Head Stomp
6/ Nameless
7/ Uma Bica (Holshouser, Horton, Phillips)
8/ Grace in Mid-Fall
9/ La Esperanza (Traditional)

All compositions by Will Holshouser except as noted

Recorded live on 11 December 2005, at Teatro Lethes, Faro (Portugal).

2006 - Cleanfeed (Portugal), CF 054CD





DREAMS FROM A CLOWN CAR
Think of a Clown Car… and right away a number of images and impressions come to mind: a huge circus tent, a universe in itself; a group of crazies; a festive honking time; loud, often delirious laughs; vivid colors; fun costumes; wild make-up; big red noses, big bright sounds; dramatized human behavior, both humorous and sad ; things magical, so different from everyday life; sizzling energy; subtle poetry; and more.
Now, think of Dreams… and likewise right away a number of thoughts and reflections also come to mind and take you to strange other worlds: unexplainable odd situations; noble aspirations that can't materialize yet; beautiful warped reality; impossible things becoming possible instantly; and much more.
So, with the myriad thoughts that Dreams can evoke, combined with those triggered from an implausible "Clown Car Band" comprised of four highly sensitive musicians / creative improvisers, everything becomes possible. The resulting tunes – each with a title chosen with great care -- are profoundly vivid expressions of a few "moments" of life, gripping musical paintings bearing not only the distinctive signature of their composer / band leader, but also the distinctive personalities of each member of this brilliant energetic quartet. Colors, sounds and energies converge, intertwine, blend, their metamorphosis growing on the tunes' canvasses as vibrant sketches, irradiating LIFE in its many forms.
Despite what would seem an apparently 'facetious' title, there is no clowning around here… Let's never forget that clowns are multi-talented professional artists. They hold in their souls the lyricism of an extended (if not permanent) childhood and hardly anything escapes their hyper sensitiveness. They know how to make us share their dreams, and we can't remain insensitive to that because we share the same human feelings and aspirations.
Thus, as a whole, this album is an intense, deeply spiritual communion and very picturesque show, a provocative musical story reminiscent of Mussorgsky's Pictures of an Exhibition, each tune a very special group "portrait" spontaneously created, all four improvising musicians – actors on a stage - on the razor's edge of the powerful NOW.

The seven Dreams comprising this album trigger vivid "impressionistic" images that repeated careful listening will enhance. In Silhouette -- like a Clown Car suddenly arriving on stage -- the powerful bass suddenly comes out of nowhere like an invisible entity wanting to manifest its presence, affirming its dominant role, soon joined by the other voices, all becoming a unique multi-faceted "being" revealing some of its mysterious oneness. Clowns make us laugh, but they cry more often than they laugh, and the opening repetitive line / plaintive wailing of Dog Days feels like a cry for help from a clown's soul trying to find a sympathetic ear while going through the grinding ordeal, simultaneously commenting on the hardships that Dog Days can bring and impose... The tenor's laments, enhanced by the alto's wavy lines, tell the painful "story" over the bass / drums' own steady pursuance. Beguiled insists on some kind of inner questioning, inner despair or torment (a clown's favorite theme), the soul confronting "something," singing its disarray, screaming its need for help, then finally finding peace and hope… A bit like an incantation, Shinobu is full of nostalgic sensuous emotion, pensive romantic remembrance, showing much tenderness (… a clown's impossible love, unrealized dream?) while Baiting Patience shows inner calm, careful restraint, no pressure, quiet confidence, a simple wait to let things happen in their own way, a dream with an unknown but much awaited logical outcome (… a clown's ode to wisdom, or maybe an ideal love?). The slow and rather solemn Powder & Paint -- which brings out feelings of great fondness, almost a certain form of sadness -- features a beautiful lyrical bass solo, a befitting respectful tribute to a loved one of a highly noble character (… a clown's precious relationship?). The closing piece, Retronym – a word defined on the internet as "a new name for an object or concept to differentiate the original form or version from a more recent form or version" -- seems a perfect title to describe how clowns so cleverly modify anything. It uses a fast melodic linear musical statement (on the unison alto and tenor sax) picturing an obviously undefined (on purpose) "thing" where logic and fluidity prevail through the rephrasing of its primary content, with many subtle intelligent twists that William Safire (whose article inspired the title), would surely much appreciate if music could be instantly translated into words.

Join this intrepid quartet on their magical Clown Car ride. You'll be surprised to discover we're all sensitive clowns too.

© Gilles Laheurte, 27 August 2010

**********
THE MUSIC:
Ken Filiano, bass
Michael Attias, alto saxophone
Tony Malaby, tenor saxophone
Michael T. A. Thompson, drums

1/ Silhouette
2/ Dog Days
3/ Beguiled
4/ Shinobu
5/ Baiting Patience
6/ Powder and Paint
7/ Retronym

All compositions by Ken Filiano

2010 - Cleanfeed (Portugal), CF 207CD




LOST IN JUNE
There are no coincidences in life. Everything responds to the principle of cause and effect. In all that exists, what often seems to be the result of "chance happening" always comes from a precise and definite source located "somewhere out there," but that in fact rests deep within each one of us. Everything is linked. There is a reason for everything that we find on our path, even if we do not understand what its purpose really is at the time of its first manifestation. It is often many, many years later that we are given the opportunity to see it and understand it. This album, "Lost in June," is a case in point.

Apparently "lost" after the concert took place on June 4th, 1977 – the three musicians knew that "someone" in the Teatro Lirico that evening had recorded the entire performance, but could NOT locate the tape anywhere, hence the title "Lost in June" -- it had actually been preserved in that "someone's" music collection for years. In addition, no one could have foreseen that, someday, Andrea Centazzo would spend two weeks in my NYC home during the Ictus Festival at The Stone (01-14 April 2012), celebrating his label's 35th Anniversary. Likewise, no one could have imagined that, the day before the Steve Lacy tribute took place on Friday the 13th (Thelonious and Steve were both there in spirit that evening, for sure!), we talked about "CLANGS", "IN CONCERT" and "TAO" – the three remarkable Ictus albums documenting the (regretfully) rather short-lived creative output of these daring duo and trio. I casually mentioned to Andrea the music of that June 1977 concert in Milano, which he believed was totally "lost," since he had no knowledge of its whereabouts, and thus had never heard it with a listener's ears before… He was in for a major surprise.

But that's not all… No one in 1977 could have predicted that the music world would shockingly – some 27 years later, precisely on that very same date, June 4th – have "lost" the great Steve Lacy, all of a sudden, barely hours before his much anticipated 13th Japan Tour. Lastly, no one could have thought – the writing of these liner notes suggested in April by Andrea being postponed several times by unforeseeable exigencies – that these words, reflecting on life and on the eternal friendship between Steve Lacy and a few of his closest "associates," would just flow out spontaneously this afternoon like the music heard that magical evening at the Teatro Lirico, today's date being … June 4th, 2012.

And amazingly, today is also the day I received the edited CD master of the concert, just as I was writing these lines. Everything is linked indeed. For years, many Lacy fans thought that both the music presented here and Steve Lacy himself had been "Lost in June," but it was only an illusion. Although it did appear to be that way for a while, his music lives stronger and stronger, thanks to all the musicians who love and regularly play his luminous and poetic compositions. And his universal spirit lives timelessly within each one of us fortunate enough to have known him just as "Steve," not as the world renowned soprano saxophonist / composer, but as the impressively humble human being that he was.

Thank you dear Steve, for the sobering seeds you planted in everyone who understands how to LISTEN to your out-of-the-ordinary music.

© Gilles Marie-Paul Laheurte - New York * June 4th, 2012

**********
THE MUSIC:
Steve Lacy, soprano saxophone
Kent Carter, double bass
Andrea Centazzo, drum set & percussion

1/ Coastline
2/ Underline
3/ Deadline
4/ Outline
5/ Stamps
6/ The Crust
7/ The Duck

All compositions by Steve Lacy

2012 - Ictus, 161 CD




TURBULENT FLOW
Terrestrial atmospheric circulation, flow of rivers, oceanic currents and smoke rising from a cigarette are just a few examples of turbulent flow. While in a rowboat, who hasn't noticed the daisy-chain whirlpools trailing behind the moving oar as it cuts through the still water? On a motor boat – whether big or small -- who hasn't been captivated by the fascinating spectacle of the turbulent flow of the boat wake? Contemplating the water swirls and eddies created behind it -- its overall bulk full of effervescent textures continuously undergoing complex mixing and fluctuations both in magnitude and direction -- one becomes the witness of buoying energies briefly coming to life in an ever changing seascape. As the boat pursues its journey, it leaves behind significant traces of its path that linger in the distance until they slowly dissipate.

Imaginative improvised music seems very much like this, carrying in its spontaneous path changes in textures, pressure variation, velocity in space and time, oftentimes perceived by the attentive listener as turbulent even if the musicians' energetic currents are gentle. It behaves like most fluids, with similar dynamics, the energy released in the creative process "cascading" generally from a large-scale structure (the composer / improviser's vision) to smaller structures (the players' necessarily limitative individual parts), producing series of whirlpools that eventually result in the energies' diffusion and dissipation. Playful children also often bring out in their exuberant recreation – a sort of de facto improvised entertainment -- a catchy spectacle of comparable turbulent flow… as they jump from one game to another or switch from one idea to another, always seemingly with total apparent randomness, yet all along acting or reacting spontaneously while remaining ingeniously creative in the unique direction of their game(s), the common goal being having instant inventive fun.

Thus the recording of this very first and dynamic encounter between two sizzling improvisers / composers full of creative sonic energies could not have been given a more befitting title. Gianni and Daniel had never met or played together before. Yet, like two kids enthused at the idea of playing together, their inner vibes were in sync instantly. And when their initial smooth stream lines smartly went into a "twist in time" mode, velocity changes, diffusion / convection of ideas and syncopated rhythms in their own respective phrasings instantly created new beginnings and new challenges, offering them an exciting opportunity to go further and further.

As unpredictable an interplay two young kittens can have with a newly discovered toy -- or simply between themselves -- listening to these two highly energetically charged "cats" constantly teasing each other musically is a marvel. Through their Sculpted-Direct Speech-Statement and Inner Lied as an expression of their Solenne(solemn)-Mini-Festo, let yourself be transported by their dazzling Translucent-Orbit Unknown-Turbulent Flow. A world of magical sonic surprises awaits you in the process and, pretty much like that boat leaving mesmerizing traces behind it, the music created here in Pavia will sure linger in your mind and your ears…

© Gilles Marie-Paul Laheurte, 21 June 2012




THREE FOR LACY
Why Ducks ?

Originally entitled "The Duck," Steve Lacy's 1972 clever composition (dedicated to Ben Webster) is one of the most iconic in his prolific repertoire and one of the most instantly recognizable. As he himself stated for his earliest recorded version of the piece (1972 Avignon concerts, on EMANEM), "it is one of several "animal" pieces in my bag." Over the years, Steve regularly (always appropriately) renamed it "The New Duck", "Japanese Duck", "Swiss Duck", "New York Duck", or simply "Ducks," depending on both circumstances and location. Each time, his improvisations on the piece's basic structure brought out luminous different hues and textures.

Although the tune is not part of this recording, brilliant colorful painted wooden ducks seem most befitting as artwork for the present album, recorded and filmed LIVE in Antwerp, featuring three of his closest friends (and fans) in a rather unusual trio composed of three soprano saxophonists -- the only other similar all sopranos trio coming to mind being "Three Blokes" with Evan Parker, Lol Coxhill and Steve Lacy (1992, on FMP).

The concert was one of three sets programmed that evening, comprising the first "Come Sunday" series of the new deSingel 2005-2006 Jazz Season. For "3 for Lacy," there was no rehearsal, no pre-arranged list of tunes, no guidelines, no restriction. The only "instructions" came from McPhee barely seconds before going onstage: "Gilles, you start."

What we have here are three soprano saxophones timbres and styles, their interwoven interplay shaped by spontaneous action/reaction between the musicians, the main part ("Medley") coming out as a kind of fugue, a celestial tapestry laced on a discreet but omnipresent "Lacyan" canvas, framed by the two short "African vignettes" that open and close the set. What transpires throughout is a communion with the spirit of Steve Lacy who, for sure, was there in the impressive 800 seats deSingel auditorium, watching, listening and smiling.

GMPLA, 03 Jan 2013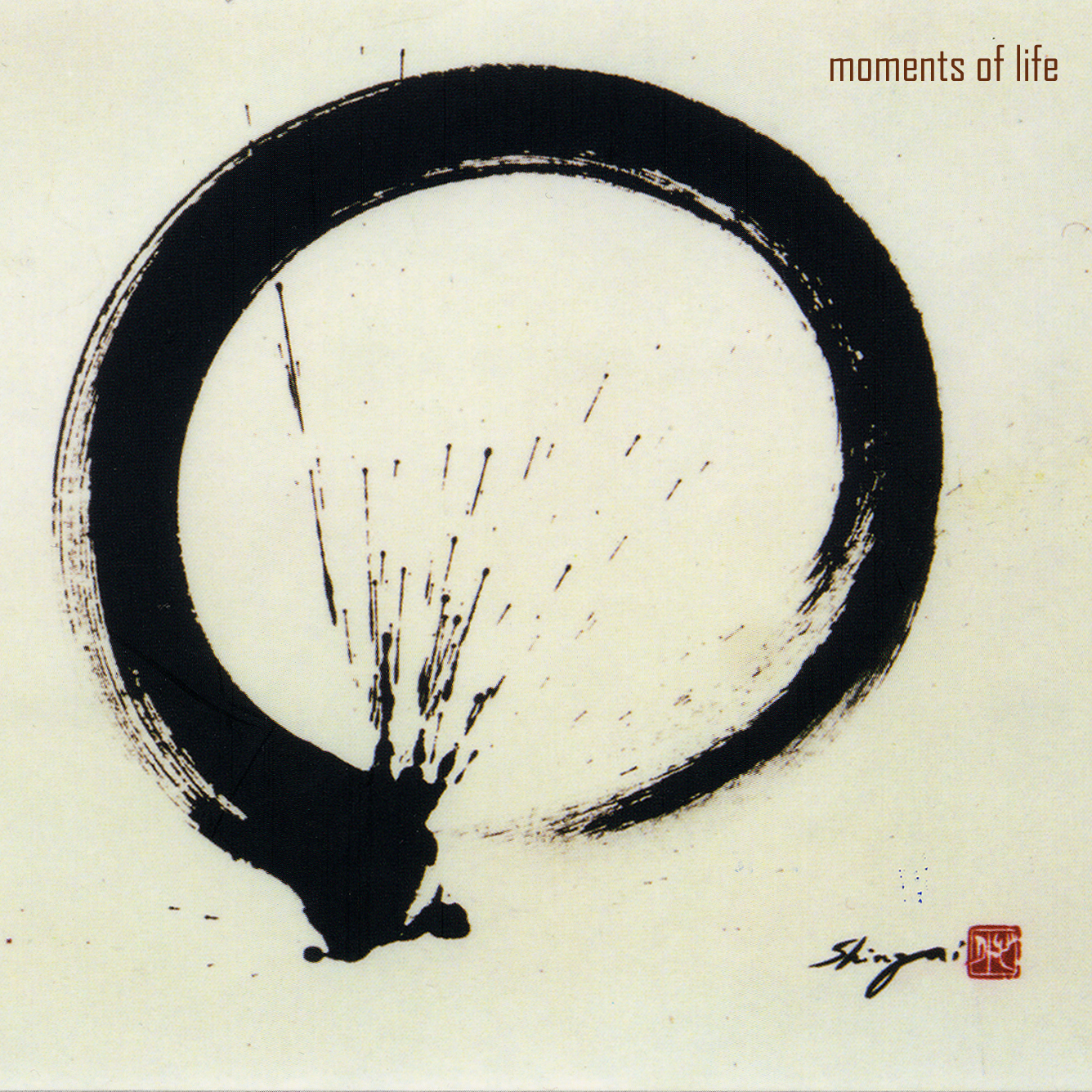 MOMENTS OF LIFE
a tribute to
Steve Lacy (1934-2004)
Masahiko Togashi (1940-2007)
Shingai Tanaka (1942-2007)

mo•ment (m_m_nt) – n.
1. A brief, indefinite interval of time.
2. A specific point in time, especially the present time.
3. A particular period of importance, influence, or significance in a series of events or developments.
(Source: http://www.thefreedictionary.com/moment)

The music here was recorded as a series of impromptu home sessions at a time of great introspection in my life, reflecting in particular on my own path (at age 62) and the passing of three artists who deeply touched my soul in their respective ways. While I knew both Steve Lacy and Masahiko Togashi personally for a number of years - listening to and writing often about their music - I never met Shingai Tanaka, born in Kyoto but living in Lyon (France), which happens to be my birthplace. I was truly moved discovering his powerful, energetic calligraphy at an exhibit organized in 2004 by the Association des Lyonnais de New York. Obviously, not a coincidence... Everything happens for a reason.

These 12 "moments" are based on improvisation, spontaneity and intimacy that reflect the inner soul and the philosophy toward the evocation of "rasa," or the spiritual mood of the "moment." This has certain demands all of its own, like total honesty and the letting go of any distracting thoughts, in a way similar to the amazingly personal works of these three illuminating departed human beings.

Compared to eternity, a man's life is nothing but another "moment," very short in time, with many days spent in illusions and in thoughts more or less unconscious, tics of habits, of language and of actions. To me, the only reality, the only truth is the present moment, which in fact is eternal: "To be, to simply be." Indeed, while improvising these modest pieces of music, nothing else existed, nothing was more important to me than the NOW, whether with or without its small or big concerns. And nothing seems to express this reality better than "Ichi Enso."
Indeed, we are all ONE.

My profound gratitude to Steve, Masahiko and Shingai for the inspiration their amazing creative lives triggered in me. Domo arigato!

© Gilles Marie-Paul Laheurte, 12 June 2008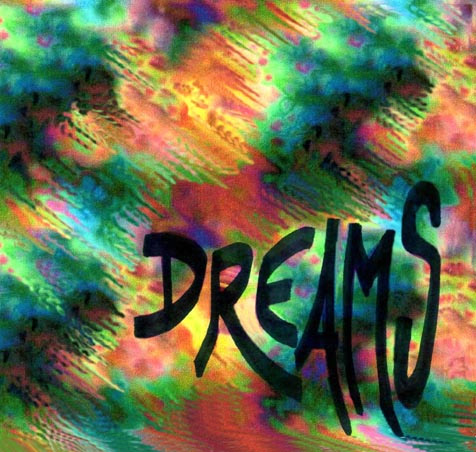 DREAMS
A humble Tribute to Steve Lacy (1934 – 2004)

Dreams are the foundations of our characters (Henry David Thoreau)

There is nothing like a dream to create the future (Victor Hugo)

Always dream and shoot higher than you know how to (William Faulkner)

Always follow your dreams and fight for them with faith (Paulo Coelho)

Trust the dreams, for in them is hidden the gate to eternity (Khalil Gibran)

You may say I'm a dreamer, but I'm not the only one. I hope someday you will join us, and the world will live as one (John Lennon)

A poem by Bryon Gysin, an album by Steve Lacy (An educated jazz fan)

Sing your song, and dream your dreams (Unknown)

Dreams are necessary to life (Anaïs Nin)

© Gilles Marie-Paul Laheurte, May 2005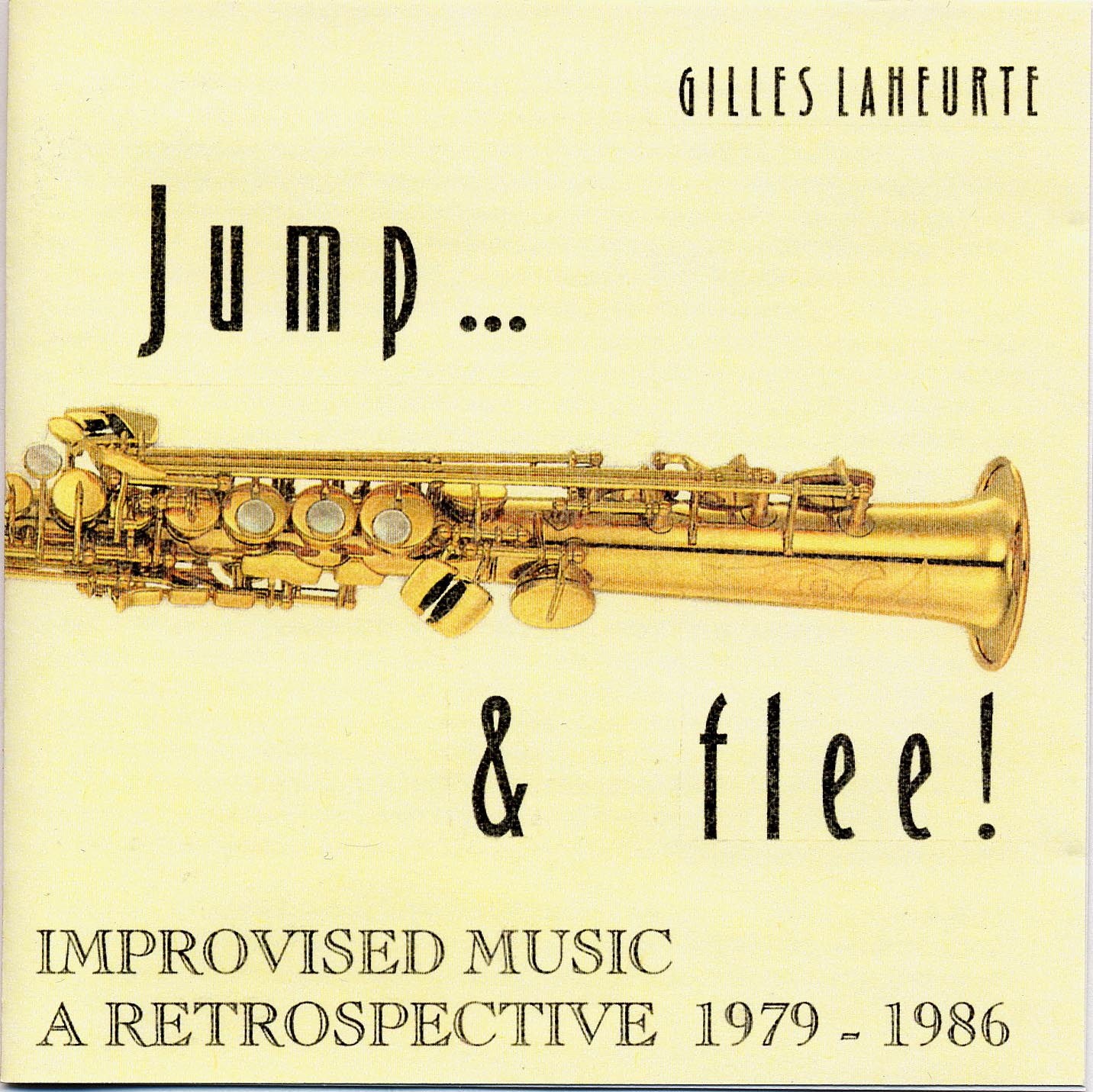 JUMP & FLEE!
A Retrospective of improvised music by an "illustre inconnu" credited with everything: graphics, notes, photographs and the music itself (!), produced by an obscure company facetiously named "Selfgratifying Productions," might very well look like the ultimate in vanity and pretentious self-conceit... No doubt some will think of it that way, although it's not it at all. Yet, if judged as such, here is the best reply: Hey! What the heck!... Who else would do it for a "wish-I-could-be" musician but the aspiring musician himself?

Actually it's my son Cedric's fault. I had simply asked him to check with his friend Jad (a computer wizard) if improvements could be made to the playback quality of the several improvisations called here "Nairobi moods," which musically sounded interesting, but technically sounded very poor (what can you expect from a cheap tape sold by some greedy Asian merchant in Nairobi some 18 years ago?...). So the "improvement" from the cassette was first supposed to be a Christmas gift. There was no gift... Then it was promised to be a birthday present. There was no present... Then it was promised to be ready for Father's day. Still nothing... and then, SURPRISE!, news came that the digital transfer was completed, that it sounded quite good ("ten times better than on the original tape") and that it would be put it on a CD through the technical magic of the computer! But at only 22 minutes or so it seemed like a waste to put so little music on a 70 minutes CD.... And the idea spontaneously came about: why not regroup some of the improvised music created during a period in my life when so many "things" happened? When dreams kept on being shattered by the cruel reality of facts and when persistent restrictions imposed by this or that resulted in -- often -– a lot of pain.

As a Retrospective, a few words must be said about the music, and how it came to be. To me, most of it sounds sad, even gloomy at times. Maybe what I played was simply the subconscious expression of the complex disturbing thoughts I felt so deeply inside my soul, about myself, about relationships, about the absurdity of life..."une vue assez sombre de la vie." But maybe that's just my nature, and that's that.

"ITEGA HILL (festive)": Dodoma, 1979. It was the time of the war between Tanzania and Uganda (remember Idi Amin?), the time of a great job with an American urban planning firm, a fantastic career opportunity to design the new Tanzanian Capital. But it was also a time of solitude, loneliness, harsh living conditions with persistent food shortages, and hard work under the mental abuse of a bossy boss (a brilliant planner though) that I can only describe as "an interesting sonovabitch." There were three "inselbergs" in Dodoma: Mlimwa, Itega and Iseni hills, each with its own peculiar shape and personality, which I found inspiring. So was the "Malacella Dodoma Suite, four études for Tanzanian mbiras" born out of their repeated contemplation. "Malacella" was the house of the Minister of Agriculture, shared by the team, sort of Bauhaus style, gorgeously decorated with African art, but with hardly any electricity, and at some point not a drop of water for 13 weeks straight... It was tough. Living like a monk, I surprised myself in discovering who I was. Many evenings were spent exploring the fascinating Southern hemisphere skies and playing music on Tanzanian mbiras, truly "ethnic" thumb pianos bought from Wagogo shepherds and peasants. Only the second étude is included here, but the Suite as a whole does convey -- to me -- the majesty of the landscape.

"NAIROBI MOODS": Nairobi, 1980. A comfortable house on Loyangalani Drive. A very somber period, both professionally and personally. I felt rejected like a good-for-nothing man (= both as architect and as husband), often staying home all day gardening a golden prison, but with plenty of time to practice my several Tanzanian mbiras. I soon began to feel more comfortable with these unusual artisanal instruments, with their spider cocoon resonators, each with its own weird tone and pitch, which made me relive the strange strong emotional memories of Dodoma. Despite the natural beauty of the city and of Kenya, I hated Nairobi. These pieces were a way to vent my frustrations and express some of my dreams. It felt good to the soul. I was relieved to leave Kenya in late 1980, walking away with my kids and my dignity, never looking back, but taking with me my African souvenirs... Today still, I am still surprised that I was able to play these pieces. Yet it is me, sounding "almost" vernacular, inspired by the local shepherds I had seen wandering with herds of cows on the high plateau of Eastern Africa.

Back to NY on the very day John Lennon was killed (December 1980), I soon left for colorful Haïti. Over several months, I struggled to save enough money to buy a Selmer soprano saxophone in Paris (August 1981). At long last, a dream had come true.
And my Muse slowly left its mark: after only 12 lessons with a great Italian teacher in Queens, I returned to Haïti in early 1982 where I played mostly Dixieland music with a local band, and miscellaneous scores for French classical theater. I even performed solo in front of a 600 student audience at the American School! (How did I dare?). Fun, yes. But not my thing... All I kept of these sessions is a tape called "trompette souvenirs"...

"AFRICA NOSTALGIA" New York, 1983. A year later, after having learned a bit more about music and a lot more about life, I was back in NY, jobless, almost broke, sad to have left Port-au-Prince (where I had a superb job and a lot of fun too!), and going again through another major professional and personal crisis. I felt so blue... My thoughts pulled me back to my introspective life in Tanzania, reminded me about the lessons learned, and I soon longed for the monkish life I had there. That's the context of this piece, which reveals my obviously still burgeoning technical skills on the saxophone, and trying to play, at the same time, two mbiras and my soprano without dubbing... Very hard, even for a professional musician. But the music is just how I felt, with no predetermined idea of what I was gonna play. All in the feelings from the soul.

Finding steady work in NY remained a struggle, and this led me back to East Africa… Rwanda, 1985-1986. Another very difficult period of reflection and solitude, far from my kids/family. A lot of crap at work with some unscrupulous weirdos determined to eliminate me because of my "radical" ideas (I was poisoned three times, no joke!), but with ample time to listen to music and explore the sonic potential of the soprano saxophone. Practice was assiduous, everyday, under the occasional but patient guidance of a professional reed player, Oliver, who taught me about music theory and showed me basic practical tips, often over a pizza and a Primus beer at the American Cultural Center. I dared record myself several times, and was occasionally not deceived to hear what was coming out of my soprano. Two tunes are included here.

"CED ON MY MIND" was played the day I received a cassette from Cedric (then 13 years old), who talked about "stuff" and played a few difficult exercises on his clarinet (He was very good. He truly had some inborn talents. Alas, he doesn't do shit anymore... what a pity). Listening to his tape, I cracked up. I cried, wondering what I was doing so far away in dark Africa instead of being with him in New York. And I took my soprano out of its case, shoved a used tape that I did not care much for in the cassette recorder, and played all the emotions stirred by Cedric's message. The piece is obviously poorly recorded, but I believe the emotions do come through. However, no one but me can hear the tears running down my cheeks...

My love for Steve Lacy's sound, his playing, his compositions, etc, are well known to all close to me. With John Coltrane, he has strongly influenced my musical tastes and my soprano playing. "FOR STEVE" is just that: a little humble homage to "the Master," trying to use some typical Lacy licks/phrasing ("noblesse oblige"), but also a lot of harmonics and free playing expressing the good feelings his music gives me.

Unfortunately, since 1986, there has been a big empty hole in my musical playing. A big vacuum. Without exaggerating, I consider it a deep personal tragedy: hardly ever a truly propitious moment to be alone, to really concentrate on music and let go... From that frustration may come the justification for regrouping on this CD some "stuff" (dixit Cedric) from a somberly creative period of my past, gathering in one spot a portion of my very modest and banal musical output. It's here, in these few (luckily) recorded moments. The music is as honest and as naked as my soul: some good, some so-so, some... Oh well! No matter what, I am glad that I decided -- at the time unconsciously -- to record what I played. Of course, the best was not recorded, as putting a tape in a recorder and pressing the "record" button is enough to make anyone self-conscious, and play badly... Yet what if I had not done it? I always remember Eric Dolphy saying: "when you play music, after it's over, it's gone in the air. You can never capture it again." So sadly true! Thus I am glad to have caught little glimpses of my musical mediocrity, humbly presented here as a "témoignage" of my love for music and my fascination for the mbiras, the bass clarinet and the soprano saxophone.

Now why an edition limited to 12 CDs? Well, there is obviously no market for this music, yet I thought: why just make one CD? It seemed like the chance to make a few copies to share with loved ones. I first thought of 10 CDs, but found the link with the decimal system too basic and uninteresting. But there is definitely something about the number 12.... The 12 Apostles (of Osiris and Jesus); the twelve-tone system developed by Arnold Schoenberg; the chromatic scale; the 12 keys; the circle of 4th (the B E A D G C F Bb Eb Ab C# F# sequence); the 4/4/4 blues form; the 12 months of the year and the 12 signs of the zodiacs (both "normal" and Chinese); the dial on a wristwatch, and of course the 12 inches in a foot, just to name a few interesting things based on that system. I liked the number. And I thought of my twelve saxophone lessons. Also, maybe I'll have 12 "friends" who will understand this CD and even be polite enough to listen (?!?) to its contents... Just maybe...

And what about the title? Quite simply, one of Steve Lacy's memorable quotes (Master class in Strasbourg, May 1998) about playing "free" :
"The ear is here, even if the technique is not. So jump and flee, try the unknown."
Honestly, I believe that's exactly what the music presented here is about: I jumped, I let go, and tried the unknown. Maybe I was doing something right, after all.

To conclude, as everyone does in such corny way at every pompous Academy Awards TV presentation, thanking mother, father, wife, husband, kids, loved ones, the stupid dog, the smart cat or the wonderful pet which inspired a hit movie etc, all so much crap about the award itself, I feel compelled also to say something (although this CD is definitely no material for an award of any kind...). So here it is:
My profound gratitude goes to: my son Cedric, for thinking about making this CD; his friend Jad, for all the generous hard work and the long hours put into the digital editing / transfer of the tapes and into the manufacturing process; Oliver, for the support and encouragement, telling me repeatedly that I played better than David Murray (I still don't believe him, of course!); Africa, for the lessons it has taught me about myself and about life; and most of all, Steve Lacy, for the inspiration and "The Way" (pun intended for those who know his compositions) his music changed my life.

Enfin, I dedicate this compilation to my three children, in the (foolish?) hope that it just might inspire them someday to get back seriously to piano, clarinet, and ?... I don't raise my hope: I have always been told to believe in miracles, but not expect them to happen... Yet, to end, I'll quote one of Thelonious Monk's tune: "Who knows?"

© Gilles Laheurte, 23 July 1998
(incredibly enough, it is Steve Lacy's birthday !!!...)






---
| Books | Liner Notes | Concert Reviews | Essays | Unpublished Works |
---
| Return Home | Architecture & Planning | Fine Arts | Writing | Poetry | Music | Photography | Theater | Contact |